3rd Oct 2022 in Uncategorised
The Cathedral Quarter woke on Monday to news of a devastating blaze at Cathedral Buildings, home to a number of creative businesses and some of the newest enterprises in the area.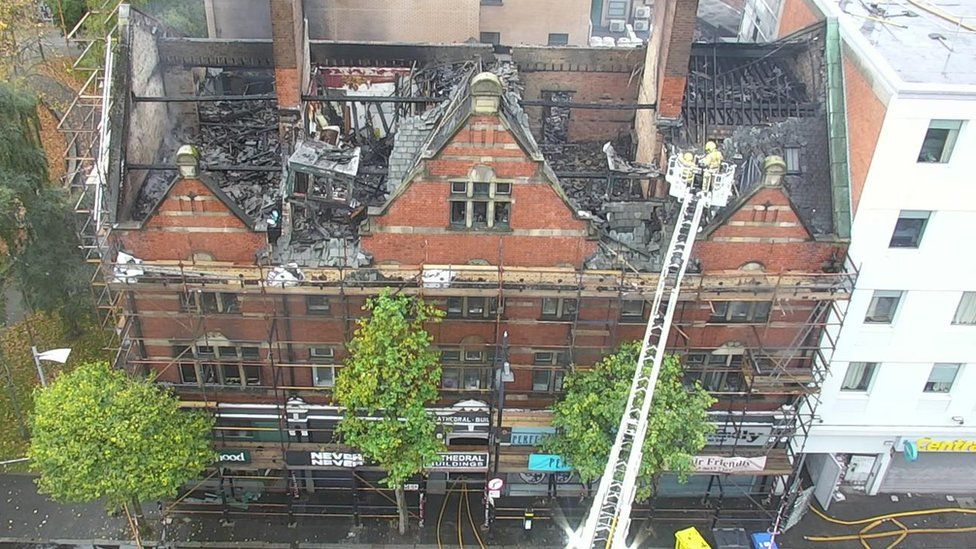 Businesses affected by the fire were immediately offered office space by the Cathedral Quarter Business Improvement District (BID).
As an organisation tasked with developing the area, we promptly invited any business in need to our offices on Hill Street.
BID manager, Damien Corr, said he had been speaking to "devastated people" and wanted to offer shelter and practical support to get them back up and running as soon as possible.
"I've been in that place many times and it's bursting with creativity" Mr Corr told the BBC's Evening Extra programme (below).
BID Manager Damien Corr speaks to BBC Radio Ulster Evening Extra
"One side-effect of this is to see all the other creative industries – like the MAC [Metropolitan Arts Centre] and the Circus School and private businesses… offering space immediately. Everybody is rallying around to help."
Mr Corr added that in the longer term, his organisation was looking for alternative accommodation for the businesses affected.
"We want to talk to people, see what the need is. We're already talking to commercial landlords," he said.
"We want to keep these people in the Cathedral Quarter. The creativity and the art is the heart of what we do and we want to keep it here."
BID Manager Damien Corr speaks to BBC NI's Newsline
Any business affected by the incident and which requires office accomodation or any other business support can speak with Mark at the BID offices on 07516 198318 or via email to mark@destinationcq.com